Watch "Handsome Siblings: Season 1" on Netflix USA
Netflix Release:

January 24 2020
Actors:

Hu Yitian, Chen Zheyuan, Liang Jie, Vicky Liang, Tay Ping Hui, Nikita Mao
Categories:

Fantasy TV Shows, TV Dramas, TV Shows Based on Books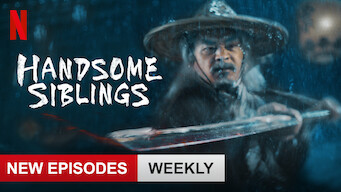 Clashing martial arts twins face relentless villains, thorny romance and brotherly rivalry as their troubled pasts catch up to them. Love spurned is a most dangerous weapon. And the fate of two brothers hangs on the tip of its vindictive blade.
Watch on Netflix
Cast
Hu Yitian, Chen Zheyuan, Liang Jie, Vicky Liang, Tay Ping Hui, Nikita Mao
Handsome Siblings: Season 1
Season 1 of Handsome Siblings has 42 episodes.
Every episode has its own Netflix countries that it's available in. You can see below if the episode is available in the USA.
Get the full details for each episode by clicking on it. You can also see which other countries it is available in (in case you need to change your Netflix country to watch it).